Brad Consigny, Home Inspector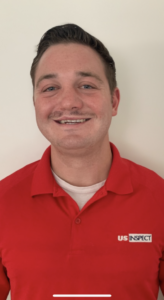 Virginia Home Inspection License 3380001887NRS
Certified Real Estate Thermographer (CRET)
Language(s): English, proficient in Spanish
Brad has been involved in the construction industry for over 5 years, ensuring the highest quality of construction is held to the same standard every day.
Prior to joining the US Inspect team, Brad was a builder in the United States Navy Seabees, the construction element of the Navy. During his five years of service Brad led crews of sailors in constructing crucial structures to support our day-to-day missions throughout the United States, Africa, and Europe.
Brad is currently working on his degree in electrical engineering at Northern Virginia Community College.
Brad is an avid scuba diver and enjoys carpentry in his free time.