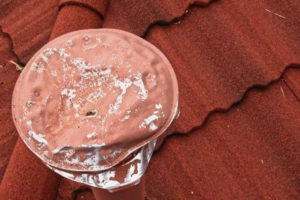 One of our Realtors asked us recently if one of her listings had a roof with hail damage. Recent hail storms had passed through the area, which tends to bring out "roof inspectors" (otherwise known as "consumer lead generators"), one of whom knocked on the Realtor's customer's front door.
How should a customer handle this situation?
Check Your Roof!
Check your shingles

– Hail damage is tougher on older shingles, which have been subjected to natural elements over a longer period of time.

Check soft metals

– Hail damage usually dents soft metals on a roof – vents, exhaust caps, trim – before fracturing shingles.
Check the entire roof – The slope or pitch of your roof and the direction of the storm may result in hail damage to one side of your roof and not the other.
If you suspect that there is damage, don't delay – the longer you wait to evaluate, the less likely the situation may justify an insurance claim.
Talk to Your Insurance Agent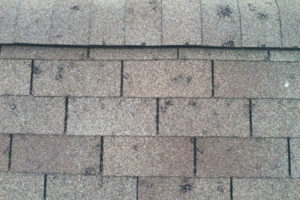 Contact your insurance agent, who will want to know the date you think your home was affected by a hail storm.  There are numerous sources online which can help you to confirm the existence and intensity of storms traveling through your neighborhood.
Identifying true 'functional' hail damage (i.e., the kind an insurance company will help to repair or replace) is tricky. Insurance companies try to determine if damage is recent, past, or a combination of multiple incidents over the life of the current roof covering. Hail damage typically is rated in terms of degrees – bruising, granule loss, edge removal, split wood, and fracturing of the asphalt underlayment. Granular loss generally doesn't qualify for replacement.
Order a Roof Inspection
If a roofing company comes knocking on your door after a storm and you are unsure if you have damage, be cautious.  Check with your insurance agent or order a roof inspection before engaging a roofing contractor.